American business services – realising your potential
Knowing you – wherever business takes you.
You can benefit from our wealth of experience in assisting both businesses and individuals with their international needs – aided by a team which includes fluency in more than 10 international languages.
For companies, we offer a wide range of services which can be scaled to fit the extent of your activities and adapted to suit you as your requirements change. Our extensive links with other professional firms, trade bodies, banks and financiers mean that we will make your entry into or expansion from the UK as smooth and as easy as possible for you.
For individuals who are not domiciled or resident in the UK or those with international concerns, we offer an award winning service to ensure that your personal financial affairs are organised as tax efficiently as possible, giving you multi jurisdictional advice and peace of mind.
Employee compensation and benefit plans ensuring the continued motivation and well being of your employees.
Transferring employees abroad, whether into or out of the UK, we will ensure the tax burden on your business and employees is minimised.
Corporate Finance expertise to assist purchasers or vendors with cross border transactions.
Remuneration strategy and profit extraction, ensuring both our business and individual clients extract profits or obtain remuneration from another jurisdiction in the most tax efficient manner.
Remote working: connected thinking. Despite the challenges presented by the COVID-19 pandemic we provide clients with continuity of service. See how our way of working has been recognised internationally by The New York Times.
We are proud to be have been appointed by the Department of International Trade (DIT), the Government body that promotes trade overseas, as one of its champions to help overseas businesses grow. We have been included in the government's UK Investment Support Directory as one of their chosen experts, in supporting the government's aim to ensure the UK remains the number one destination for foreign direct investment in Europe.
We are also longstanding members of British American Business, the leading transatlantic business organisation which is dedicated to helping companies connect and build their business on both sides of the Atlantic.
Our membership of Kreston Global also allows us to look after the global needs of our clients. Through this membership we are also members of the Forum of Firms, an association of international networks of accounting firms that perform transnational audits. The objective of the Forum is to promote consistent and high quality standards of financial reporting and auditing practices across the world.
Contact us today
Contact Michael O'Brien, head of our American team, to find out how we can help you.
Partner, Accounts, Outsourcing and International
Related resources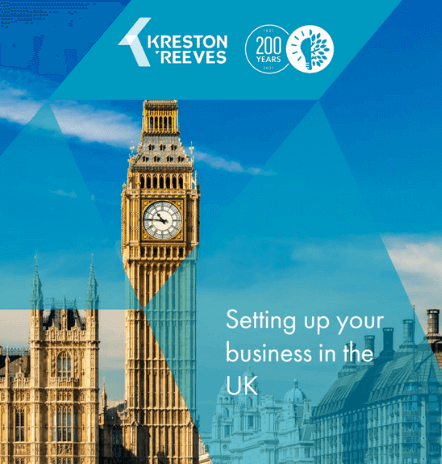 PDF 7.56 MB

Setting up your business in the UK – What are the issues you need to consider?
Close
Expand
Subscribe to our newsletters
Our complimentary newsletters and event invitations are designed to provide you with regular updates, insight and guidance.
You can unsubscribe from our email communications at any time by emailing datateam@krestonreeves.com or by clicking the 'unsubscribe' link found on all our email newsletters and event invitations.