European business services – speaking your language
Knowing you – wherever business takes you.
Kreston Reeves has been trusted by generations of clients to manage their European financial interests, so we are perfectly placed to focus on the challenges and opportunities created by Brexit.
Our offices in London and the South-East of England work closely with European firms and individuals looking to develop connections with the UK.
That dynamic, proactive commitment to Europe will continue, and is underlined by being part of the global Kreston network of select, independent accounting firms.
Our experts are recognised for their practical, in-depth understanding of cross-border trade issues, and for advising corporate and institutional clients and individuals.
Key international services we offer European businesses and individuals include:
International Tax planning and award winning expertise to resolve cross-border tax issues.
Advice to help non UK domiciled individuals make the most efficient use of tax treaties and offshore tax structures.
VAT and Duty expertise, whether supplying services between countries, importing or exporting.
We are proud to have been appointed by the Department of International Trade (DIT), the Government body that promotes trade overseas, as one of its champions to help overseas businesses grow. We have been included in the government's UK Investment Support Directory as one of their chosen experts, in supporting the government's aim to ensure the UK remains the number one destination for foreign direct investment in Europe.
In a complex and connected world you can trust Kreston Reeves to look after all your international needs, smoothing your financial journey.
Setting up your Business in the UK – What are the issues you need to consider?
There are a number of issues which you might consider when you are looking to set up your business in the UK. This video will take you through some of the common questions that we come across and it also gives you practical advice about the issues that you need to consider.
Contact us today
Contact a member of our international team to find out how we can help you.
Related resources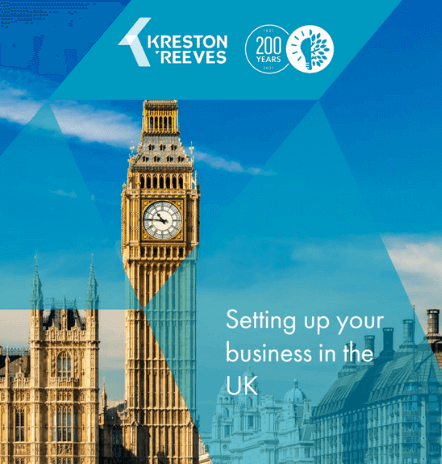 PDF 7.56 MB

Setting up your business in the UK – What are the issues you need to consider?
PDF 249k

Supporting UK exporters
Close
Expand
Subscribe to our newsletters
Our complimentary newsletters and event invitations are designed to provide you with regular updates, insight and guidance.
You can unsubscribe from our email communications at any time by emailing datateam@krestonreeves.com or by clicking the 'unsubscribe' link found on all our email newsletters and event invitations.